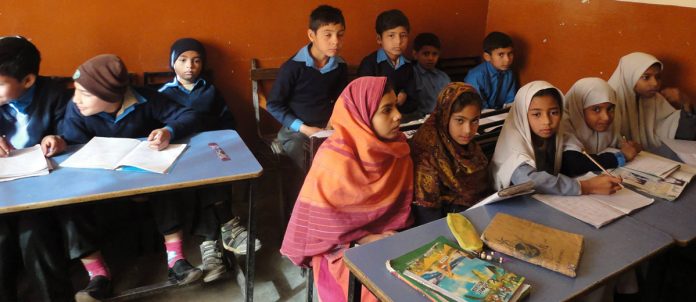 A charity looking to create educated, healthy, prosperous, empowered and responsible individuals with equal opportunities in society.
Behbud Association was founded in Rawalpindi during the 1965 Indo-Pak war to help affected families with food and shelter. It is a name which stands for support and strength for women. Behbud's programs focus on community development, by providing opportunities for responsible and generous persons to assist under-developed sectors in Pakistan, helping to alleviate poverty, illiteracy, poor health conditions and economic deprivation. Behbud's sole purpose was to empower women. In 1970, Behbud Association Karachi was set up by a group of ladies driven by the same principles of compassion for the needy. Behbud Association Karachi and all other Behbud Association chapters operative in the country are autonomous entities run by their own executive committees. The Karachi association started off from a two room apartment in PECHS, but now has under its care various schools, health clinics, a production unit and a large team of volunteers. The association holds annual elections when the members – who are all volunteers, elect the Executive Committee. This Committee consists of a President, three Vice Presidents, a Secretary, a Treasurer and Chairpersons of each project who are responsible for the smooth running of their respective projects.
The charity's mission is to provide quality education, medical facilities and income support to the underprivileged citizens of Karachi and adjoining areas. Behbud association runs an extensive education support system under the aegis of Behbud Education System (BES) with the following projects: three secondary schools, one primary school, four community schools, four literacy centers, a computer lab and a learning resource center. BES schools are located in or near the vastly inhibited city slums to facilitate children living near those schools. The BES charges very nominal monthly fees from Rs. 50 to Rs. 100, while providing full scholarships to deserving children. Through the Higher Education Fund, students going for professional training are selected and their fees at their respective institutions is paid in full.
Behbud's other initiative under the Behbud Health Services (BHS) realizes that medical treatment is an equal right for both the privileged and the under-privileged. To provide medical relief in a situation of crisis for the poor, the association conducts weekly clinics mainly at Mehmoodabad – Korangi and Shireen Jinnah Centers. These clinics offer specialized health treatments and are located in or near the slums so patients can easily access them. As Behbud's reputation grew, people from distant areas also started availing these services. In most cases, for a mere Rs.50, the patient is examined by a doctor, or referred to a Behbud specialist, and given medicine for a week. BHS insures that the medicines are of the highest quality. The association keeps the costs of the clinics low by buying medicines at wholesale prices and by relying on extensive volunteer support. Twenty-six volunteer doctors work in the clinics, while other administrative tasks are carried out by more than thirty other volunteers.
The association apart from dispensing quality education and medical facilities to the needy, firmly believes in providing women with the opportunity to make a respectable living in the current society. Women from all parts of the city can join Behbud's extensive skill courses on offer in the Shireen Jinnah Center and the Mehmoodabad – Korangi center. The centers help in departing basic training in skill sets i.e. sewing, embroider, leather work, block printing, fabric painting, electrical training and basic IT skills. Once the women learn their trade, the association pays them to produce goods for the various gift shops and a designer store named 'Behbud Creations'. All profits from the gift shops and the store are invested back into the association.
The Behbud Karachi Association works tirelessly to empower the young and the old alike; to enable them to hold a respectable image in the society today. The association also looks towards uplifting the society as a whole by implementing their Green Initiative, which targets destitute grounds in the city and undertakes a facelift job to provide the youth with an opportunity to pursue a healthy lifestyle by investing their time in extra-curricular activities including an official cricket team 'Behbud Cricket Club' which is registered with the Karachi City Cricket Association.  The Behbud Karachi Association carries out its programs through donations it receives from individuals including zakat. The association can be reached on the following address:
Behbud Association Karachi – Street 9, Block 1, Scheme 5, Kehkashan, Clifton, Karachi.
Telephone 021 – 35820663; 35820665; 35824524
Email: info@behbudkarachi.org
Website: www.behbudkarachi.org