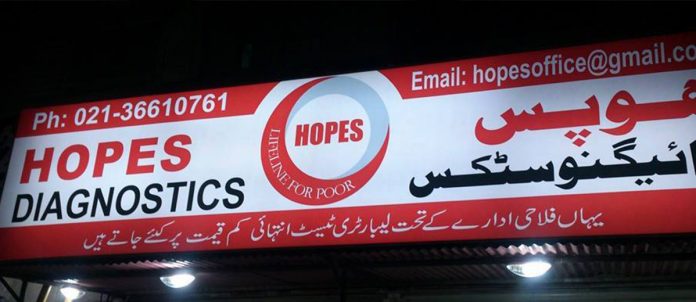 By Afifa Nadeem and Asra Ahmed
Vision: "To help the less fortunate fellows in their pain and sufferings without any discrimination or compromise on their needs."
H.O.P.E.S (Help of Patients in Exigency by Students) is a non-political organization managed by the students of Karachi Medical & Dental College (KMDC) with the sole mission to alleviate human suffering.
KMDC's affiliate hospital, Abbassi Shaheed Hospital (ASH) was in a dire need of a structured philanthropic strategy when a group of students decided to launch H.O.P.E.S in 1995 for the welfare of poor patients so that they could avail facilities like free medications for their treatment. They started with a meager amount of Rs. 80,000 annually, and it has been going uphill ever since, now providing welfare services worth almost Rs.700,000 per month and Rs. 8 million per annum.
During the cabinet announcement meeting, one of the founders, Dr. Ahmed Nawaz expressed his gratitude and explained the journey they eked out for this generous purpose. "When we started working on this project, at the beginning it was just an experiment to assess the need and outcome of such an initiative, we worked and it paid off. Today H.O.P.E.S. is progressing at a substantial pace," said he.
In Abbassi Shaheed Hospital, the Free Drug Bank of H.O.P.E.S, famously known as room 41 supplies the underprivileged patients with free drugs where students perform their duty at the drug bank after their college hours and dispense the prescribed medicines to the beds of the patients, the daily cost of which is Rs. 22,000. From June 2013 to June 2014 alone, the cost of drugs dispatched to the medicine ward and it's allied wards reached Rs. 4.8 million while that of the surgery and it's allied wards totaled to Rs. 2.9 million which would have been impossible to afford had the philanthropists in the society not existed.
The diagnostics, radiology and blood transfusions take place either separately or in labs affiliated with ASH, the cost of which is borne by the H.O.P.E.S account. Meanwhile, the 'No Profit, No Loss Pharmacies' selling medicines at trade prices have been established for those unable to afford costly medication.
With doctors on their toes to ease out the miseries of those in pain, the Free 24-Hour Emergency Drug Bank serves patients anytime of the day or night irrespective of their lack or affiliations or affordability. H.O.P.E.S. has helped not only millions of inhouse patients but has gone the extra mile on various occasions such as unexpected natural disasters like 2005 earth quake, floods of 2010 and 2011, or political scenarios such as terrorism war. The rehabilitation facilities and medical care to the victims were also given by the volunteers who went to the affected areas to ensure proper access to aid without any turbulence.
As part of other CSR activities, many campaigns, shows and carnivals are arranged by the volunteers throughout the year to raise funds for the smooth running of the NGO. These include:
– Zakaat campaigns during Ramzan in many areas of Karachi
– Hides campaigns during Eid ul Azha
– H.O.P.E.S. carnival which is a complete day of fun filled event, the earnings of which are used in for fulfilling the organization's philanthropic objectives
– TV and radio interviews of our volunteers during the campaigns and the social media coverage
The total income of H.O.P.E.S. comes from these events as well as from the money that is collected every month by the college students themselves who not only donate generously but also raise funds from their relatives and neighbours for the cause.
"In H.O.P.E.S. we work like a family, everyone knows about  the monthly expenditures and all the fifty volunteers feel the responsibility of providing the money to keep the organization functional. All of us give at least 15 hours per week to H.O.P.E.S." says, Asfia Arham Khursheed, President of H.O.P.E.S. "We eat, sleep and study in its office when the work load is more. I've learnt more through H.O.P.E.S. than I learned from textbooks."
H.O.P.E.S can be contacted at:
H.O.P.E.S. Pharmacy 021-3661433, 0322-2858259, 03333683254
hopesoffice@gmail.com