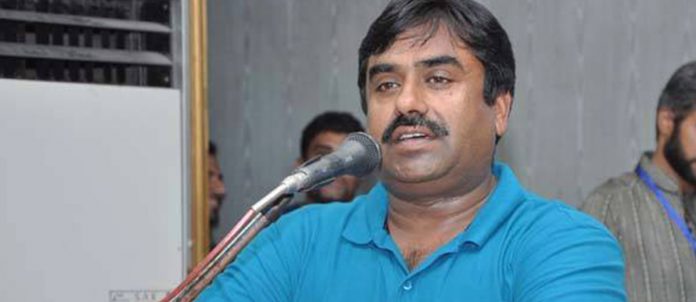 Naeem Mirza, Chief Executive – Awaz Radio Network, talks about the influence of regional radio
Synergyzer: Please give an overview of your company.
Naeem Mirza: Radio Awaz established its first FM radio channel in Gujarat, Punjab in 2003 and since then, the network has continued its journey by establishing twelve state-of-the-art radio stations across the province. Those include Gujranwala, Sheikhupura, Bhalwal-Sargodha, Sadiqabad, Khanpur-Liaqatpur, Jhang, Pakpattan, Rajanpur, Bahawalpur, Okara and Sahiwal. Now, Radio Awaz Network has become one of the largest FM Radio networks in Pakistan.
Synergyzer: Please give details about your professional background.
Naeem: An Electrical Engineer by profession, I did my Bachelors in Science from the Engineering University, Lahore, and later a Masters in Telecom and Broadcasting from the Queens University, Ottawa, Canada.
On returning to Pakistan, I established my company in 1999 that specialized in Telecom and Broadcasting and was a turn-key solution provider for FM radio stations and telecommunication companies. My company established many government and private sector FM and MW radio networks in Pakistan and abroad, and this background helped us in getting our first FM license in 2002.
Synergyzer: Who does Radio Awaz Network broadcast for?
Naeem: Radio Awaz FM is for the people of Pakistan in general and for the people of Punjab in particular. It is a winning name in the FM broadcasting industry, comprising of highly skilled and professional team members. The principal goal of Radio Awaz is to turn radio into a source of entertainment, information, education, religion, health, agriculture, science and technology, sports, culture, and awareness of law and development.
We plan and produce different programs for the youth, children, women, as well as senior citizens. Radio Awaz broadcasts twelve hours of transmission on a daily basis from its twelve FM radio channels in different languages, including Urdu, English and Punjabi. All these programs can also be accessed on the internet throughout the world on www.radioawaz.com.pk.
Synergyzer: Based on what factors do you plan the content of your radio frequencies? How does it stand out amongst competition?
Naeem: Radio Awaz has a very skilled and professional programming team. Our teams are located regionally, are specialized in research and program design and produce programs through inculcating suggestions from local people and listeners.
Our regular transmission includes local news, sports, cooking shows, horoscope, health and beauty tips, Islamic awareness, movie songs, ghazals, gossip, and programs on current affairs with local businessmen, social, political and youth communities who participate actively. Our programs are very popular with the masses as we carry out different interactive and outdoor broadcast activities. We take calls and SMS from our listeners in almost every show, and also broadcast special programs on women and student counseling.
Synergyzer: What are the dynamics of the radio industry in rural areas?
Naeem: Because of long hours of electrical load shedding; approximately sixteen to twenty hours a day, people are unable to watch TV. This makes radio the only source of entertainment for the rural population and that is why, Awaz Network is doing very well, particularly in Southern Punjab.
Also, since only one FM channel is available in most rural areas airing 60 to 70 percent localized content; listener participation is high through phone calls, text messages and letters by mail. This makes FM channels valuable tools for promotion, with Radio Awaz being one of the most effective radio networks.
Synergyzer: What organizations form the advertiser pool for rural markets?
Naeem: Mainly large multinationals, FMCG companies and national enterprises advertise in rural areas as these are densely populated areas and form a potential market, which is yet to be explored.
Also, a large number of our advertisers consist of NGOs and other such organizations working in these areas to tackle issues related to gender discrimination, child health and education, clean drinking water, child marriages, etc. Our network acts as an ideal platform for such organizations to convey their message to a large target audience at affordable rates.
Synergyzer: How does load shedding impact the operations of your channels?
Naeem: Power crisis is a major nuisance in Pakistan for all kinds of businesses and industries. The ratio of load shedding is much higher in rural areas, and it affects the operational cost due to added factors like fuel cost, depreciation of generators etc. During power outages, we use alternate power sources such as generators and heavy duty UPS to provide non-stop transmission to our listeners, which adds to our operational costs.
Synergyzer: Is the license fee from PEMRA any different for radio stations operating in rural areas?
Naeem: Yes, the PEMRA license fee for small towns, cities and rural areas is low as compared to Karachi, Lahore and Islamabad. Yet, we have more challenges in small areas in terms of power outages, technical back-up support and other facilities that scale our expenses upwards.
Synergyzer: What is the impact of renewal license fee that PEMRA is charging for rural stations?
Naeem: Yes, we do have the same challenges of renewal fee by PEMRA as the major cities have. In fact PEMRA is charging two-fold fee structures in the form of annual renewal fee and then revalidation fee after every 10 years. This approach would destroy the FM radio industry. On one hand PEMRA has increased the number of licenses, over-riding their own policy, which is dividing the FM radio share of the market, whereas on the other hand, it wants to increase the fees.