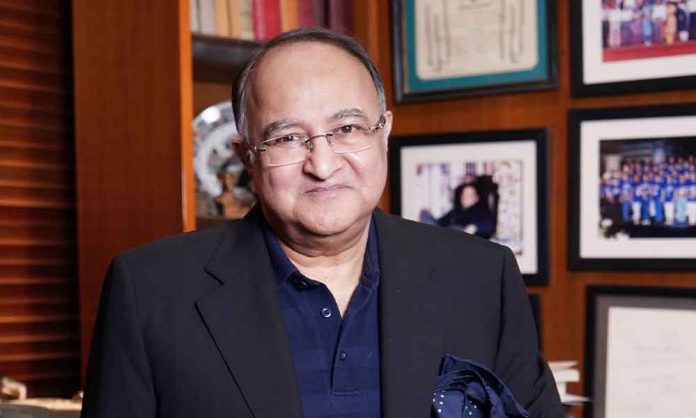 SANNA MALIK: According to its mandate, the All Pakistan Newspapers Society (APNS) has "successfully evolved a mechanism of streamlining advertisements and [a] clearance system protecting the collective interests of its member publications, advertising agencies as well as advertisers." How is that done?
SARMAD ALI: The biggest concern of the APNS when it was formed in 1953 was to protect the interests of the then still-evolving newspaper industry and to secure the newspapers by developing a payment system when working with the nascent advertising agencies ecosystem.
The payment mechanism, which though has been tweaked over the years, but is still in place, allows advertising agencies accredited with APNS to place advertising in the newspapers on credit basis. There are two safety valves built into the system: We protect member publications from defaulting agencies and protect accredited agencies from defaulting clients. To that end, we encourage agencies to register their clients with us. That way, if a complaint is filed against a defaulting client, the APNS can blacklist the client until all dues are cleared.
Of course, agencies can also default. Either the client is not paying them, or it's a willful act where the client has paid, but the agency chooses to keep the entire payment, including the 85% that is intended for media, in our case newspapers. In the latter scenario, the APNS suspends the agency until dues are cleared.
SANNA MALIK: What is the accreditation process?
SARMAD: There are three types of advertising agencies that are registered or listed with APNS: Associate, provisionally accredited, and fully accredited.
Associate agencies have a credit time limit of 60 days on postdated cheques which must accompany each release order. After a year as an associate with a good track record, and with no complaints from the member newspapers, and no bounced cheques, the agency becomes eligible for provisional accreditation. This requires a bank guarantee of PKR 2.5 million. After another year and payment of another PKR 2.5 million, the agency acquires full accreditation.
The credit period increases with each tier; for associates, it is 60 days, for provisionals, it is 75 days, and for full members, it is on an average 105 days. Associates get a pre-set trade discount of up to 14.5%, while provisional and fully accredited agencies are entitled to 15%.
It's a model that has worked well for the last 70 years and we have over 80 agencies working with us.
SANNA MALIK: Do you intend to modify the current system in any way?
SARMAD: We are considering categorization based on agency performance. For example, Category A would have agencies that have never defaulted and are considered very good paymasters, Category B may be advertising agencies that may have defaulted yet paid their dues after some time, and so on.
SANNA MALIK: Which kind of advertising agencies have been the most problematic?
SARMAD: Those handling government advertising.
Over the last 10-15 years, federal government dues to ad agencies — and consequently media outlets — have ballooned to PKR 2.1 billion. Large government debts, dating from 2008, still have to be settled. The reason is that every time a new government comes to power, it holds off paying for advertisements that were run by the previous government, which was most likely led by a different political party.
But we look at governments being in perpetuity. It doesn't matter who the Prime Minister or Information Minister is at any given time; if an ad is placed by the Government of Pakistan, publications as well as other media outlets consider it a sort of sovereign guarantee. There was a time when release orders issued by the government's Press Information Department (PID) were as good as cash, but over the past several years, our confidence in the government's payment mechanism has evaporated. While the Punjab government has been relatively effective and pays its dues within a reasonable time frame, the federal and other provincial governments still need to put their house in order.
Unpaid dues are a serious concern because if the government is deliberately not paying, that means it is trying to suffocate the media. Freedom of the Press is impossible without the financial independence of the press. If the media has to deal with the government's financial hold over it in order to survive, then it becomes compromised.
SANNA MALIK: How is the APNS dealing with this?
SARMAD: Since 2020, the Press Information Department (PID) has devised a system by which the government and its various departments and corporations began paying dues at the ratio of 85% to publications/media and 15% to advertising agencies. This effectively absolved ad agencies of their liabilities. Earlier, release orders would be issued by the agency and whether or not the client paid up, the agency was supposed to pay within a stipulated time frame/ In the new system of split payments, the agency is responsible only for the placement of an ad in the newspaper and the financial liability has shifted to the client, in this case, the government.
We send our invoices to PID for verification and it forwards the bills to the various liable government ministries, departments, and organizations as well as to AGPR. We believe this needs to be improved. If the RO is being issued by PID, then it must assume its liability as well. This means that PID must be given the authority and autonomy to make payments. We have suggested that funds of the various ministries, departments, and corporations should be placed at the disposal of PID to enable them to settle media invoices on time.
SANNA MALIK: The mandate also states that "no listed clients are allowed to release their ads in any member publication without the clearance by the concerned agency." Yet clients have released advertisements to APNS member publications via the PID. How does that happen?
SARMAD: After April 2020, the government made two significant policy changes. One, it split the payment ratio into 85:15 – 85% to the media and 15% to the ad agency involved – instead of giving 100% of the amount directly to advertising agencies.
Two, all classified advertising is being released directly by PID. The government only releases display advertisements through advertising agencies. Back in the sixties, it was mandated that classified ads of ministries and other government departments were to be released by the PID, whereas corporations and autonomous/semi-autonomous bodies would continue releasing all of their ads through advertising agencies. The new policy change has taken away the rights of corporations such as Pakistan International Airlines (PIA), Pakistan Railways, National Bank, State life, or WAPDA.
The APNS is not in favor of this policy change. I believe that this should not have been allowed until the outgoing ad agencies gave their clearances to PID to release the classified ads of their listed clients. With the new system in place, those government bodies that may not have cleared the dues of their agencies are able to release advertisements directly. We are lobbying with the government to get this changed back to the old system where both the classified and display ads were b released through advertising agencies while continuing the current payment mechanism of 85:15.
Read More: THE PAA THAT WAS: THROUGH THE LENS OF SENATOR (R) JAVED JABBAR
SANNA MALIK: How can advertising or media buying agencies secure themselves in such a situation? Does the APNS provide protection to agencies in this regard?
SARMAD: For the past year and a half, the government has operated in a way where one agency makes an ad while another agency releases it. This is inefficient and intended to weaken the controls and protection that APNS and even PBA) have had to offer to agencies.
A government client can do whatever it wants since they can have 4-5 agencies on their panel. For example, a government department that is a client of ABC agency can choose not to pay ABC and release the ad through XYZ instead. XYZ will accept because it is anxious to get the campaign and the business. Similarly, the newspaper is also keen to print the ads. Hence the cycle keeps on repeating itself, which messes up the system. The situation can be improved if the advertising agencies registered their clients with APNS before releasing campaigns. Also, advertising agencies need to be mindful of the fact that they should not release campaigns of clients that were being released by other agencies without acquiring NOCs from the outgoing agencies. The only way to safeguard this is if the agencies are fully on board.
SANNA MALIK: Advertising agencies and media buying houses are a major part of the industry, specializing in creative and media buying services. How does APNS see itself working alongside the Pakistan Advertising Association (PAA)?
SARMAD: APNS strongly believes that the PAA is a representative body for advertising agencies in Pakistan. The APNS has had a long relationship with PAA and over the years they have worked together. There is APNS – PAA joint committee since the late 80s although the committee does not meet as often as it ought to. We have been working very closely with PAA in the last few months and while it is important that the committee collaborates to ensure proper systems are in place and the interests of the advertising community are safeguarded, I strongly feel that PAA has to establish itself effectively and it needs to evolve into a stronger organization so that it can represent the advertising industry effectively.
I have also proposed a joint committee of the APNS, PBA, PAA, and the Pakistan Advertisers Society (PAS), where they jointly address issues that are being faced by the advertising and media ecosystem.
SANNA MALIK: AdAsia aimed to showcase Pakistan's creative side to the Asian market as well as the world. Did it benefit us?
SARMAD: We wish it would have had; but unfortunately the AdAsia Lahore was in December 2019 and by March 2020 the whole country and the world, was in lockdown due to the COVID-19 pandemic. Any impetus or hopes of any positive outcomes that we were expecting fizzled out. In 2021, we were supposed to showcase Pakistan in AdAsia Macao but could not as it became a virtual affair.
Perhaps now is the time to get into forward gear. We ran two International Advertising Association (IAA) campaigns last year; the first was the 'Pledge of Positivity', which was a TV campaign in which we asked people to pledge to positively beat the pandemic. The second was 'Let's Advertise Again'; in which we tried to encourage advertisers to start advertising again. We believe that through the campaign we made advertisers realize that they are the engine of growth and consequently advertising helps them fuel their growth. Advertising should be looked at as an investment, not an expense. These efforts did make a difference and sparked some movement in the advertising community.
SANNA MALIK: What needs to be done to develop the advertising craft in Pakistan?
SARMAD: At AdAsia Lahore 2019, Sir Martin Sorrell in conversation with Richard Quest commented that advertising had come full circle and it was time to go back to the full-service agency model. At that Quest remarked that Sorrell is considered the father of disrupting the full-service agency model, and Sorrell replied that disrupting the model was the right thing to do back then, and going back to it is the right thing to do now.
I agree with Sorrell.
I have worked on a number of great creative campaigns. For instance, Polo Mints were launched with ads that featured a hole literally! Similarly, the Lux Chambaili variant was introduced with Pakistan's first fragrant newspaper. For a Nestle Milkpak campaign that ran during two cricket tournaments, we got the famous Jang cartoonist Javed Iqbal to draw a series of front-page cartoons linking Milkpak to something that happened in that day's match.
These great campaigns happened only because we sat down with the advertising agency creative, account, and media teams. When creatives know the process of how a newspaper is printed and learn to bring their ideas live on print, great campaigns follow. Interacting outside boundaries takes us beyond newsprint columns and airtime seconds to think out of the box and create campaigns that actually come alive.
Right now, advertising is too cluttered and identical. You can take the brand logo off of one automobile ad, put in another logo, and change the photograph; no one will know the difference. Similar is the case with advertising being done for banks. We have got to go beyond lookalike advertising and that can happen only if firstly, those working on the campaign understand who the customer is, and secondly if they understand what the choice of media can do for the brand.
They say that the advertising that we have grown up consuming is dying. To make our ads as memorable and vibrant as they used to be, we need to bring the creative and media agencies together with the media …. Remember what Marshall McLuhan said Medium is the message. Advertising has to become collaborative to survive. That's how we can create a brighter future for advertising.