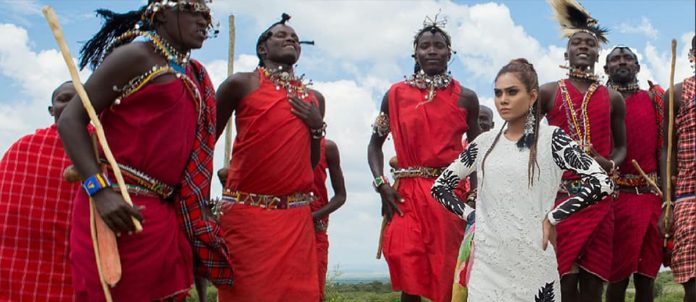 In Pakistan, there are two things that we can be absolutely certain about as another summer season begins; the extreme heat and new lawn collections. We will be talking about the latter in this article.
There have been multiple new companies entering the clothing industry recently but there are only a few brands which have made their mark in the market. Amongst those brands is Sana Safinaz; a distinguished company, founded by Sana Hashwani and Safinaz Muneer, which has been established for well over 25 years in Pakistan. Sana Safinaz lawn is high end and is known for its bold prints, cuts and color selections. They have built this luxury pret image for their brand over several years through their promotional campaigns.racism
This year the company faced some backlash for its Spring Summer collection 2018, proving that even companies with extensive market experience can go wrong sometimes.
The location for the catalogue photo shoot was Masai Mara, the national park of Kenya, and it featured local Maasai tribesmen along with Sana Safinaz's models. Given the location and the prints this season, the brand could have very easily created uproar by capturing the vibrant and rich culture of Africa. Instead the pictures showcased the tribesmen insinuating them as slaves or props in an attempt to give the pictures an exotic feel.
The pictures that were posted on social media accounts were contradicting the voice over of the campaign. The voice over was about women empowerment and freedom while the pictures were seemingly promoting colonialism and racism.
People thought that the campaign was elitist, racist and reinforced stereotypes about black people. Instead of acknowledging such negative opinions and explaining the brand perspective about the campaign, Sana Safinaz decided to delete the negative comments that it received, making the situation even more controversial. Later, realizing that the controversy will not just tame down if simply avoided, the brand took responsibility for their mistake and they posted an apology on their Instagram account.
(NOTE: The above mentioned comments are collected from the discussions on the facebook group "Khalid Alvi Marketing Next")
What should be noted or taken as a lesson by other brands in future from this controversy is to understand that our audience is educated and well aware of everything; they won't just accept anything and everything that is put on the plate for them today. We definitely want campaigns which are more creative but not at the stake of demeaning other cultures or our own people as a matter of fact. As responsible citizens we are all obliged to act in a manner which promotes a progressive image of Pakistan instead of a regressive one. All brands in Pakistan need to pull up their socks in order to gain appreciation.