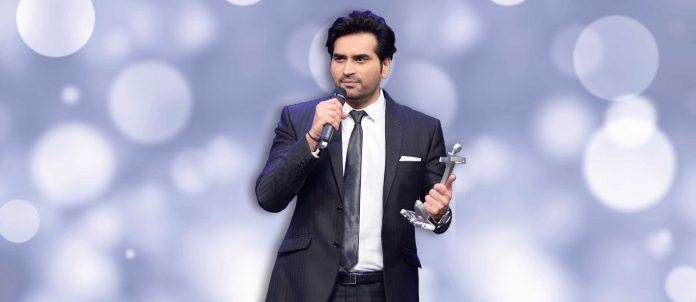 As originally published in Synergyzer Annual 2018
What would you say if I told you that the lead actor of Pakistan's biggest hits started his career as a second lead, that too in a TV commercial? Yes, Humayun Saeed's ascent as Pakistan's most successful actor and producer has been remarkable and he has achieved what others dream of through his sheer hard work. From a supporting role in an antiseptic soap commercial, he has come a long way, first making his presence felt on TV and later in films as an actor and then going on to create a separate identity for himself as the producer of two of the highest grossing Pakistani films – Jawani Phir Nahi Ani and Punjab Nahi Jaungi. Pakistan's entertainment industry remains indebted to Humayun Saeed for the actor turned producer has grown into a force to reckon with.
Here are excerpts from the interview we conducted with Humayun Saeed:
Were you expecting Jawani Phir Nahi Ani and Punjab Nahi Jaungi to be colossal hits when you were making them or they achieved the success beyond your expectations?
I will be honest with you – we were of the opinion that only action films can do well in Pakistan but these two films proved us wrong. We were not that sure of Jawani Phir Nahi Ani's success but were confident that Punjab Nahi Jaungi would do well, and it did exceptionally well. Thankfully, they both became the biggest hits in Pakistan's history and I am glad that we were able to achieve success even if it came after trials and error.
How difficult is it to do both in a film – act and produce it in this day and age?
It may not be a big deal in other parts of the world but in Pakistan where we don't have a film structure or where films aren't made in large numbers, being a producer and an actor is a challenge. Here, a producer is usually occupied with off-screen tensions such as the decision to cancel the shoot because of the unavailability of either the location or the actors; due to weather or other issues. You can't act according to your character if you have other things on your mind and that happens with me all the time. Thanks to my team, I usually don't get to hear of the problems and maybe that's why I have done well on screen (laughs). I have been acting in films for nearly 20 years but being just the actor is a blessing; you can work on your character freely.
You are famous for big budget films… why don't you produce smaller films to keep the supply going?
Actors in India have established their own companies and don't necessarily get involved in the everyday affairs of these companies. They can make both big budget and small budget films without the fear of losing money as they have many avenues like TV rights to gather back their investments. In our country, we are in a development state where making a film is a huge task even if you are just the producer. We have made just 3-4 quality films in the last 4 years and until and unless we increase the number, we will not be able to become a big industry.
How did you come up with the idea of Help Me Durdana?
The line was clearly Khalil Ur Rehman Qamar's idea and trust me, at first we didn't see it coming! Nadeem and I thought that since the line was repeated quite often, we conveyed our concerns to Khalil sahib who claimed that after the film, everyone will be repeating the line. Mulk Ka Bacha Bacha Bolay Ga and we thought he was exaggerating it. After the release of Punjab Nahi Jaungi, that line became a rage and everyone was quoting it, sharing its memes and using it whenever they could. Hats off to Khalil sahab for coming up with such an innovative way to make the film popular!
Although Punjab Nahi Jaungi managed to do well internationally, it was marketed as an Indian film in some places; didn't you find that annoying?
Too many Indians went to watch the film in Dubai and other cities – in fact, the Sikhs loved it, as it was closer to their culture. The distributors of the film in the international market were B4U and maybe that's why the cinema folks used the word Indian or Punjabi instead of Pakistan. I am glad that both Indians and Pakistanis liked the film and I can never forget one call from across the border that made my day. Veteran Indian actor Rishi Kapoor called me up and asked me to speak to his wife Neetu Singh – and I am a big fan of hers. Surprisingly, Neetu ji told me that she loved my plays and films including Dil Lagi and that was a compliment I wasn't expecting!
At that time, they were quite excited about PNJ and we offered to host them in Dubai but they were busy, otherwise having them watch the film would have made us proud.
Let's go back by a few years… when you attempted to become a film producer, what made you go for Main Hoon Shahid Afridi considering it was a sports film, something that hadn't been tried before.
Ever since I entered the field in the 90's, I wanted to be a film producer. Sadly, that was the time when we weren't making quality films and I was left to do TV that helped me a lot in learning the tricks of the trace. After Inteha in 1999 and No Paisa No Problem a few years later, I didn't do a film till Main Ek Din Laut Kay Aaonga in 2007 after which I took a break from films. Babar Ali was my senior in films and got to work in some hits during the 90's revival but that wasn't the case for me. That's why when multiplexes took over the single screens, I decided to produce a film, where I would decide the script, the director and the actors. The lifting of the ban over Indian films was a blessing in disguise, as cinemas no longer depended on Hollywood or local content. Thankfully, the team I assembled for MHSA was a good one and despite not becoming a blockbuster, it laid the foundation of not one but two blockbusters in the future.
Aren't you forgetting one more project of yours…?
Oh yes, I am – the remake of Abhi To Main Jawaan Hun ran for just one day in cinema (it was part of a film festival for TV) but trust me, it helped us go for comedy rather than action. Vasay Chaudhry's script was well received by the audience and that was the day when I gave him permission to proceed with Jawani Phir Nahi Ani.
Why don't you remake old Pakistani films like you did with Abhi To Main Jawaan Hun? That's a common phenomenon in India where they remake old classics and make money!
I want to remake old film classics but that will take time. The one film I would love to remake is Pervez Malik's Qurbani which is also one of my all-time favorite films.
You acted in a Bollywood film Jashnn where you were the main antagonist at a time when you were playing the main protagonist in Pakistan. How was the experience and how did it help you as a learning producer?
I did the film because Mahesh Bhatt sahab asked me to and since he is a dear friend, I couldn't refuse. The cast comprised of newcomers but the role that they gave me was a powerful one, even if it was that of the main antagonist. I managed to learn a lot during the filming and it wouldn't be incorrect to say that I came back as a better producer after the film. Bhatt sahab directed my scenes and it was nothing short of a dream come true for me because he has been an icon in Bollywood and he was giving me directions.
Why didn't you pursue a career in Bollywood considering you have a huge fan following across the border due to your dramas?
I didn't go to India to make a career but to work with Mahesh Bhatt. Otherwise, Aamir Khan had offered me the lead role in Ghajini but after meeting me, he told me that I was too good looking for the character (laughs). I never gave an audition in India because I was busy in Pakistan but to meet and learn from their actors was something that took me there.
You are also a big name when it comes to TV; in your opinion, which is more difficult – producing a TV serial or producing a film?
It is easier to get dates from film actors than it is from TV actors; TV actors work simultaneously in many projects, which isn't the case with film actors as we aren't sufficient in filmmaking. For me, producing a film is easier than producing a TV serial because of many reasons. a) Actors raise their fee during TV dramas if they become popular b) They don't give you dates as per commitment c) They throw tantrums even if the producer is a seasoned veteran like me. That's the reason that the one who is committed gets quality plays while the rest work in more plays that might not end up as successful plays. There is also the economic reason – 5 years back a play would cost the producers around Rs. 65 to 70 lac whereas now, the range is between Rs. 2.5 crores to 3 crores!
Where do you see Pakistani films in the next 10 years?
Much further ahead! I am confident that in the next 10 years the cinema business would be a profitable one but in order to make that happen, we must at least have 500 screens and 50 films must come out each year. We can't survive on one or two films a month because that's the current scenario and it isn't helping most of the producers. We need to make quality films so that the audience gains confidence in local films and visits cinemas to watch films, not to support Pakistani Cinema.